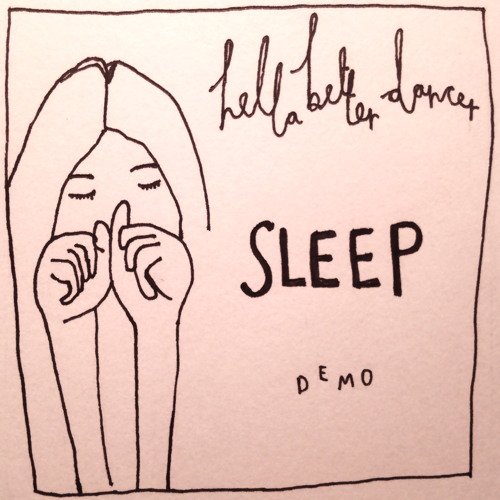 It has been more than 10 months since I last sat and wrote a straight up blog post here. In that time plenty has happened. Certainly enough to make me think that this blog was something for me to run but not power. As ever girlfriends have come and gone, cities have surrounded and departed, I even got a job. I want to put this all down in one master blog post but I fear that shall never happen.
Hella Better Dancer – Sleep (Demo)
But I can think of no better band to coax me out of a self indulgent hiatus than Hella Better Dancer and their new demo for Sleep. From the dusky, ebb-and-flow opening guitar licks to the lapping "ah ah ahs" everything works. It screams of sleepiness, of hands rubbed into eyes and fingers run up foreheads into hair and the drink that won't finish. I've always been amazed at the supposed fact that it takes on average 7 minutes to get to sleep. Realising you are the only person awake triggers the most bizarre thought processes, so many of which have been documented on this blog over the years (this particularly shabby number springs to mind). Everything from fleeting moments of clarity to inextricably overlapped webs of panicked confusion come one by one. 
I remember smiling when I saw this song played live last week and the line "you'll close your eyes now, you'll fall asleep before me" were sung with closed eyes because everything this song sends my way brings back these moments of pure introspection. When all you can hear is your heartbeat in the pillow and all you want to do is pretend you can survive without sleep and make breakfast then this demo is like a cold nose on the side of your neck flanked by 2 pairs of tightly pressed eyelashes.
Add their music to your collection at their bandcamp for as much money as you would like
Like them on Facebook
Get some sleep.
Marcus
x